How to find the correct outer RV Skylight Dome
RV Skylights are a common addition to RV's these days & are subject to harsh conditions. Sun & UV exposure will cause significant wear to most originally installed external skylight domes & then rain, hail or snow can often cause cracking or damage in some other way.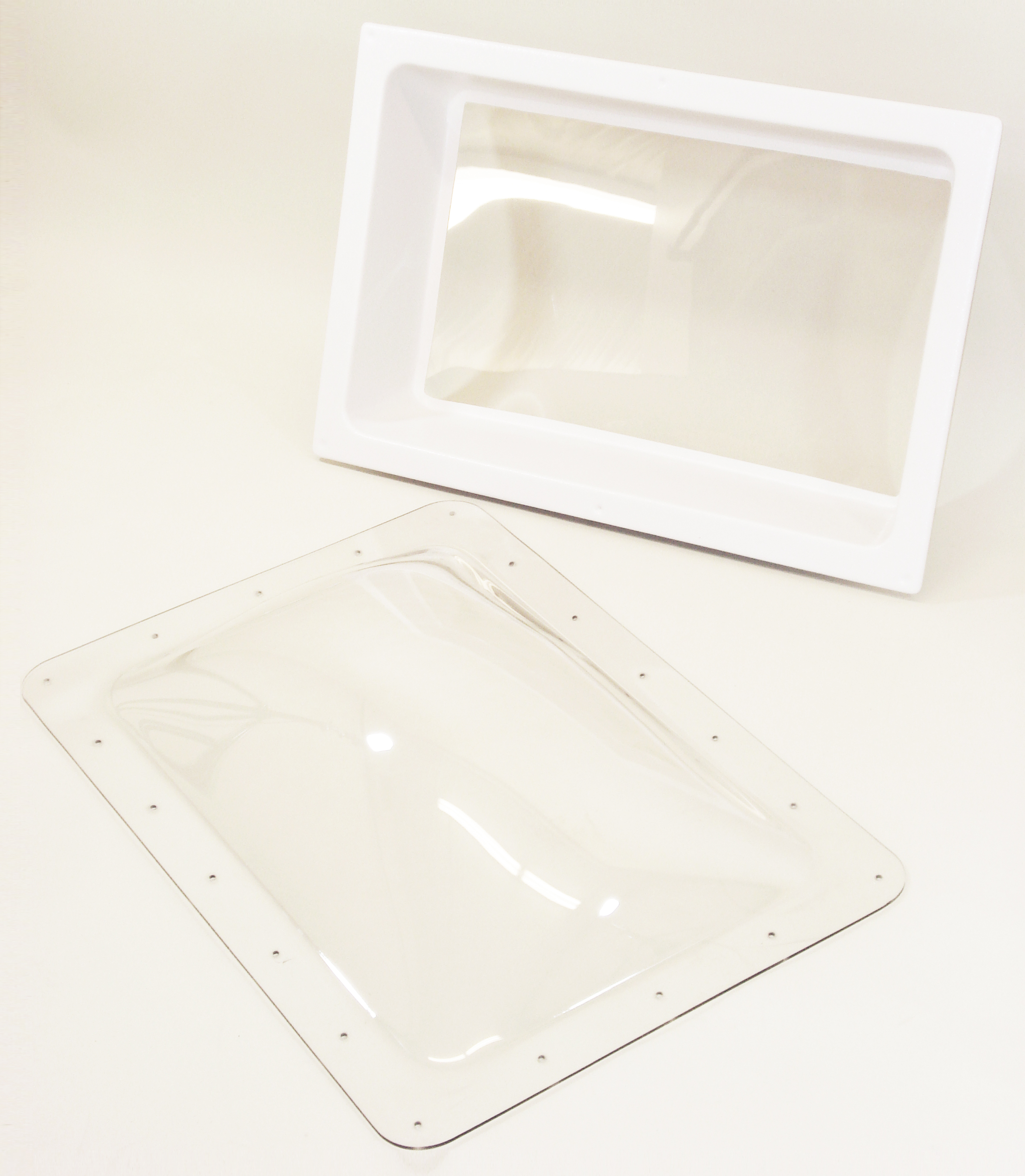 For this reason, it is recommended that you inspect and replace an external dome as necessary. You definitely do not want leakage that can cause immense damage! Yearly, or before any long trip, you ought to inspect all parts on top of your RV. The RV Skylight dome is no exception. Watch for any cracking around the flange or signs of any impact. If a crack has started, it may be time to replace.
To find the correct skylight dome for your unit, you will want to gather specific dimensions. A common assumption is that you ought to compare the outside, or flange to flange dimension of the originally installed dome. While that is helpful, many originally used domes could have varying flange widths while our replacements have a 2″ flange. To properly compare, you should take the hole dimension on top of the roof (or the "dome only" dimension from the original dome) and compare that to our dome dimension. Here is a chart of common sizes & replacements:
RV Skylight Dome & Flange Dimension Table:
Rectangular RV Skylight Sizes
Model #
Dome Size
Flange Size
SL1414
14″ x 14″ x 4″
18″ x 18″
SL1422
14″ x 22″ x 4″
18″ x 26″
SL1430
14″ x 30″ x 4″
18″ x 34″
SL1434
14″ x 34″ x 4″
18″ x 38″
SL1824
18″ x 24″ x 4″
22″ x 28″
SL1830
18″ x 30″ x 4″
22″ x 34″
SL2222
22″ x 22″ x 4″
26″ x 26″
SL2230
22″ x 30″ x 4″
26″ x 34″
SL2234
22″ x 34″ x 4″
26″ x 38″
SL3030
30″ x 30″ x 4″
34″ x 34″
Neo-Angle RV Skylight Sizes
Model #
Dome Size
Flange Size
NSL208
20″ x 8″ x 4″
24″ x 11″
NSL2412
24″ x 12″ x 4″
28″ x 15″
NSL2810
28″ x 10″ x 4″
32″ x 13″
NSL3013
30″ x 13″ x 4″
34″ x 16″
Once you have a replacement ready, the installation should go as follows:
Use a putty knife to expose the screws holding the original skylight down. Remove the screws & pry off the original dome. Be careful if you have a rubber rv roof, as you do not want to tear it with your putty knife.
Scrape off any remaining caulking or sealant from the previous rv skylight installation using a putty knife.
Use a rag wet with mineral spirits to clean off the remaining caulk residue. Don't worry about getting it perfectly cleaned off however. Wait for it to dry.
Use a caulk gun loaded with a compatible sealant and run a thick bead along the row of original screw holes. Run the bead all the way around the skylight hole.
Place the skylight over top of the skylight hole. Wiggle it back and forth to spread the sealant.
Using the old skylights markings as a guide, you will need to center the new skylight.
Run a screw into each of the pre drilled holes on the skylight dome. Do not overtighten, as that could cause cracks to form.
You should see some of the caulking squishing out from under the skylight dome flange. You will then want to run one more bead of sealant around the edge.
Cover each screw head with sealant as well.
You're all set with a new rv skylight dome!
Hope this helps – Please let us know in the comments!